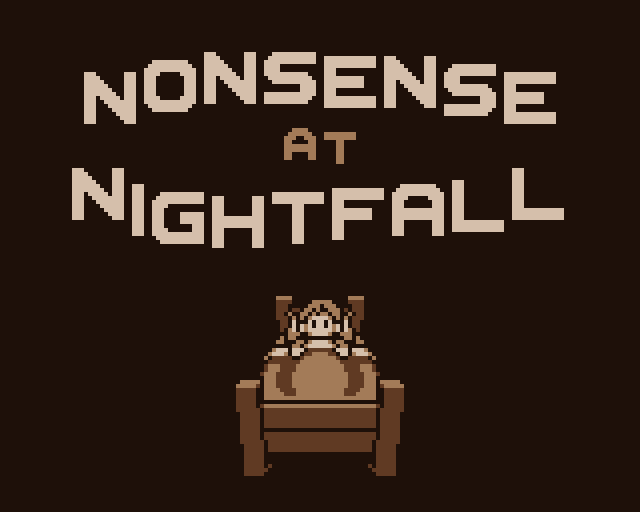 Nonsense at Nightfall
Comments
Log in with itch.io to leave a comment.
THIS GAME IS GENUINELY BRILLIANT :D Loved it..
Thanks a lot for playing!
The graphics are definitely inspired by the old Pokémon games and also a bit of Link's Awakening.
In the options you could set the screensize btw, and to explain the controls a bit better: The H and G keys are like your A and B buttons on a Game Boy, with the arrow keys/WASD/QZSD as your D-pad and Enter being the Start button.
Anyway, I really enjoyed watching you play my game, thanks again!

This is such a trip! There's so many twists and turns and it was amazing. I had so much fun playing this! Great job!
Thank you SO MUCH for doing a let's play of my game!!! I can't wait to get home and watch it!
I'm so happy you had fun and enjoyed the weirdness and randomness, haha!
EDIT:
I couldn't wait and actually watched at work! It was a lot of fun to see you play it and I'm really glad you had fun too. Thanks a lot for playing!
I absolutely loved this game! I booted it up to give it a try and I ended up playing the whole thing!
It was enjoyable and a charmingly weird experience! Great work!
Thank you so much for the nice feedback! I really appreciate it!
Glad you enjoyed the weirdness too, haha!
Can't wait playing when it comes out